Myanmar's telecoms sector booms, but challenges remain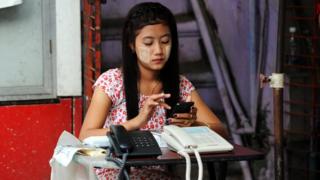 Wearing a floral shirt and traditional beige-coloured face cream known as thanaka on her cheeks, 26-year-old Aye Aye Khine sits behind a rusty shoe rack with a phone book and a landline telephone waiting for customers to use her phone to make a call.
Offering the service for 15 years out of her family's small tea shop, she says it used to be a nice way to earn an extra $50 (£30) a month as mobile phones were too expensive for most of the population to afford.
But in today's Myanmar, also known as Burma, that has all changed as anybody with $1.50 can buy a Sim card.
"Now, my business is cut in half since everybody has a mobile phone," she says, holding a smartphone in her lap.
"Still, I'm very happy since having a mobile phone is so convenient and I can call anybody."
When the state-run operator MPT - Myanmar Posts and Telecommunication - launched mobile services in 2000, a Sim card could cost more than $5,000 on the black market, an unthinkable amount to a population where average incomes are less than $100 a month.
At the same time, telecommunications were tightly controlled by the-then military-run government, which held a monopoly over the sector and viewed mass communication as a tool for radicals to spread rhetoric that could lead to uprisings.
Though the cost of Sim cards later shrank to about $200, mobile penetration in the country of 51.4 million remained very low - at just 7% in July 2013, according to government figures.
Unprecedented growth
But since then, as a part of an ambitious plan by the quasi-civilian government to open the long-isolated country to foreign investors and bring the country into the digital age, the Communications Ministry has invited Qatar-based Ooredoo and Norway's Telenor to become the first wholly foreign-owned operators following an arduous tendering process.
In August, Ooredoo became the first of the two to launch services in the country's biggest city Yangon, also known as Rangoon, as well as in Mandalay and Naypyidaw.
Overnight the country went from the least-connected market in Asia to one of the fastest-growing in the world. Telenor is expected to launch its services later this month.
"Mobile phones are now part of the background infrastructure for a range of industries, facilitating market access and pricing, to financial services," says Sean Turnell, an expert on Myanmar's economy at Macquarie University in Sydney, Australia.
"Much of their impact is hard to delineate, but we might expect all sorts of efficiencies within existing industries, as well as some new ones."
Within one month of launching services, Ooredoo says it has already reached more than one million subscribers.
Ooredoo has pledged to spend $15bn on telecommunication services in Myanmar over the course of its 15-year licence, and says 97% of the population could be reached within five years.
Meanwhile, MPT has plans of its own to expand the existing government-run network.
It announced a partnership with Japan's second-largest wireless carrier KDDI Corp and Sumitomo Corp in July, and they have promised to invest about $2bn to expand the system.
Increased mobile usage this year has also helped the mobile messaging service Viber become the most popular application in the country, growing from less than two million users in February to five million in July.
A tool for hate speech
Though the economic gains stemming from an improved telecommunications infrastructure is undeniable, the rapid growth of mobile users on social media has exacerbated sectarian problems and in at least two instances has resulted in deadly clashes between radical Buddhists and minority Muslims.
In the months leading up to the outbreak of anti-Muslim riots in the Rakhine state's Meiktila township in March last year that killed more than 40 people, an extremist monk named Ashin Wirathu mobilised other radical monks across social media websites like Facebook calling for the wholesale rejection of Islam, an effort that is widely believed to have triggered the incident.
In July this year, the same monk falsely suggested online that Muslim men had raped a 17-year-old girl in Mandalay, sparking riots that led to the deaths of two people, including one Muslim. A police investigation later confirmed the monk's accusation had been completely fabricated.
"The difference in the digital age is that technology is allowing information to spread much more quickly than ever before," says journalist Aela Callan, who has studied hate speech in Myanmar.
"Information and misinformation about a religious incident in one state can rapidly spread to another, almost in real time. We saw this happen in the recent incident in Mandalay, we saw it happen in Meiktila."
Ross Cormack, chief executive of Ooredoo Myanmar, says that educating social media users about exercising social norms is vital to prevent further violence.
"Our standard way of doing business and our conditions [of usage] say that you have to behave with social norms, while obeying country laws and that's how we expect people to play," he says, adding that his firm has met regulators to convey that very message.
'We have to manage it'
A senior Communications Ministry official says the government is committed to dealing with the problem in a way that would not compromise progress made to recently liberalised speech freedoms.
"We have to think responsibly. We are an accountable people and the government is in the delicate position of changing its mindset about freedom of speech and it is doing so slowly, not abruptly.
"I hope we will be able to better prevent this kind of thing from happening again in the future with effective internet and media controls where it is necessary. We have to manage it."
Part of the problem is that there is currently no legal framework in place that governs behaviour on social media, while inefficiencies in law enforcement still persist, says Christopher Chit Tun, of consultants Deloitte, who advises the government on developments in the telecommunications sector.
"In other countries they can handle this kind of problem better. In Mandalay, nobody stopped [the rioters] and let them do what they did.
"Social media is to blame as an amplifier, but this is something that should be dealt with more efficiently."
If such issues are not dealt with the country may begin to find that rooted resentment, whether against Muslims or the government, may become Myanmar's undoing, he says.
"They need to figure it out and think of a holistic way. If they don't go [down] that route and they allow this to be used for any of these purposes, it will be the recipe for a Myanmar Spring."