Is the smartphone market approaching maturity?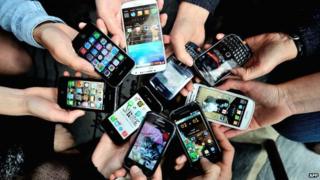 Apple has announced that the opening weekend sales of its new iPhone 6 were 10 million units. This is twice as many as the iPhone 5S achieved on its opening weekend last year.
Later this week, the iPhone 6 will be launched in a further 20 countries and will be available in 115 countries by the end of the year.
Seven years have now passed since the first iPhones started flying off the shelves. Apple, along with Samsung, has been at the vanguard of the smartphone revolution.
The two companies presently account for nearly half of global smartphone sales.
But, are there now signs that worldwide growth in smartphone sales is beginning to slow? What might it mean for these two smartphone giants?
Global smartphone sales were 30% higher in 2013 than the year before. However, sales growth was around 50% in each of the two previous years.
There are signs of market saturation in developed markets, while stronger growth has been found in developing and emerging economies.
But, even in a country where the average annual income is $8,000 (£4,885), the smartphone market in China is already fairly mature and such phones accounts for 80% of all mobile phone sales.
Cheaper models
According to the International Data Company, half of smartphone sales around the world are below $100 excluding sales taxes. Prices have fallen as smartphone technology becomes standardised and as a swathe of manufacturers target the budget end of the market.
In developed markets, customers are becoming more price-sensitive and a bit less brand-orientated.
Wiko, a three-year old French manufacturer, sells its phones for less than $100. It has already claimed nearly a tenth of the French market and is expanding across Europe.
Consumers are also benefitting from fast improvements in standard technology, so cheap does not necessarily mean bad quality.
In 2012, less than half of smartphones priced at $80 had a processor faster than 1 gigahertz. Last year, nine out of ten at this price did. Budget smartphones have also followed the recent trend for larger screen sizes.
India is seen as the largest untapped smartphone market. Affordability is the key factor so unsurprisingly the iPhone is a rarity and lower-cost Android devices are becoming increasingly popular with many manufacturers looking to move in on the market.
One of these is the Chinese firm Xiaomi. Despite being only three years old, its phone are massively popular in China due to its affordable pricing.
It has just overtaken Samsung to be the largest smartphone provider with 15% market share.
Although its focus has been on its home market, it has recently started selling smartphones in India at around $100.
Samsung, the current market leader in India, has launched three budget models for sale at under $130. Google's Android One is currently available at $105.
Microsoft are also looking to make a splash at the budget end of the market. Earlier this year, they completed their acquisition of Nokia's mobile phone business, planning to use the Lumia smartphone brand to expand into emerging markets.
What's next?
There is scope for smartphones to become even smarter. The recent trend in increasing screen sizes may lead to flexible screens or in-built projectors.
Augmented reality may encourage people to live their lives through their smartphone screens by allowing us to interact in real time with our surroundings.
Battery developments have so far failed to keep pace with the power demands of more sophisticated devices.
It is ironic that as our mobile technology becomes more advanced, we need more regular access to a wall socket.
But, what might happen to the smartphone pioneers Apple and Samsung in the coming years and how might they adapt to the maturing market and growth in manufacturers of cheaper smartphones?
The iPhone generates half of Apple's total revenues. The latest model sells at over $600, and with Google's Android operating system used in nearly three-quarters of all smartphones, the iPhone is looking increasingly like a luxury and niche brand.
Samsung manufactures smartphones at a range of prices but is coming under intense competition from manufacturers of cheap phones. Fitch Ratings expect this to take a quarter of Samsung's global market share by the end of 2015.
While worldwide smartphone sales are forecast to increase by 20% this year to 1.2 billion, Fitch predicts the sales of the big 2 to stagnate at around 450 million units.
Apple has never been an out-and-out hardware company and may respond by developing its complementary software and services.
iTunes currently has over 800 million subscribers and with its recent acquisition of Beats Music, it looks like it's making a foray into the video and music streaming business. It has also been working with Mastercard and Visa to develop a mobile wallet.
Samsung has also started branching out into what it calls 'wearable tech' through a range of smartwatches.
Apple too launched a smartwatch alongside its latest iPhone. However, the uptake of wearables has been slow.
Research in America has found one third of consumers who purchased a wearable tech device stopped using it within six months.
It is perhaps too early to say whether smartclothing, smartglasses or smartwatches will come to challenge the smartphone.
Figuring out the next innovation though will undoubtedly matter for these two, especially as there's immediate competition on their heels.
The world's third largest mobile handset maker, Chinese firm Huawei, has recently launched a big screen smartphone, a phablet (phone+tablet), with an eye to challenging Samsung and Apple in the global smartphone market.
For more on business and economics, watch Talking Business with Linda Yueh. Broadcast times are found at: Talking Business with Linda Yueh.