Air France: What's behind the strikes?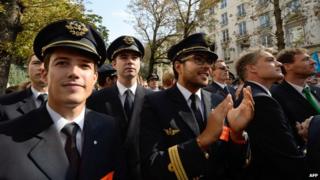 After 10 days of disruption, there are finally signs that the Air France pilots' strike may be reaching its endgame.
Both unions and management have said they are willing to enter talks, and on the sidelines the French government - a 16% shareholder in the airline - is desperately pushing for a resolution.
But the deal may still take some days to come - turning the pilots' strike into the longest in more than 20 years. And when it does, it will be closely scrutinised for any signs of a management cave-in.
The background to the conflict is Air France-KLM's urgent need to break into the European budget market.
The prospects for developing Air France's existing short- and medium-haul European business are regarded as virtually nil. Business as well as leisure customers have deserted in droves to low-cost rivals such as Easyjet and Ryanair.
Air France-KLM chief executive Alexandre de Juniac built his strategy around a new budget affiliate to be called Transavia Europe.
Transavia already exists as a company in France. But it is limited under a deal with unions to just 14 aircraft. Mr Juniac's plan was to build up a European Transavia, using the more flexible pay and working conditions available in other jurisdictions (such as Portugal).
This plan now looks like it has been scotched. Already earlier this week Mr Juniac said he was prepared to put the project on hold for four months. Unions rejected that offer out of hand.
Then on Wednesday the government stepped in, announcing that - as far as it was concerned - Air France had indeed vowed to abandon Transavia Europe.
Air France promptly denied this, but there is now the clear impression that the European venture is merely waiting to be put out of its misery.
Mr Juniac said if he had to give up the Transavia Europe plan, it would be "with death in my soul".
But it may be that an alternative strategy now begins to take shape.
Under this, while Transavia Europe would be put in the reject bin, its already-existing French equivalent Transavia France could instead become the focus of development.
Analysts who follow the French air industry note that the original strike issue had nothing to do with Transavia Europe.
It was a demand for "equal pay, equal rights" for all pilots - whatever airline they flew for.
But that point seems to have been sidelined as the unions focused their protests against the proposed European affiliate.
With Transavia Europe abandoned, it may be the unions will show more flexibility about employment terms for pilots at an enlarged Transavia France.
That is certainly what the management will be hoping for, as well as an understanding that the existing straitjacket limiting Transavia France to just 14 planes will be removed.
That way Air France-KLM might be able to pursue the strategy of developing a low-cost affiliate. But the downside would be losing the flexibility (and profitability) coming from an offshore European operating base.
If this is the way talks proceed, there will be many in the business community lamenting how a small interest group - the pilots - has once again derailed the business plans of a major French corporation.
"This conflict is a perfect illustration of the bad side of France - an interest group is sending a major company back into the red," said Jean-Francois Pillard, vice-president of the employers' federation MEDEF.
According to Alain Minc, economic adviser to successive French governments, "Companies like Air France have a huge problem - caught as they are between the top-of-the market Gulf airlines at one end and the low-cost at the other.
"If the business does not adapt, it is not certain it can survive. This strike is like a swansong to the France of yesterday."
Air France's 1,000 or so pilots are far from representing the feelings of staff in the company as a whole, as counter-demonstrations this week against the strike have shown.
With salaries of up to 200,000 euros (£156,000) a year and generous perks, they are among the most privileged of France's workers. In addition, none of them would be obliged to move to low-cost flights.
But according to Bruno Benoist-Lucy, a Boeing 777 captain with 28 years at Air France, the strike is not about money.
"Of course we know we are lucky. But we are striking for a principle - to stop French jobs disappearing abroad."
To drive home the point, pilots at Tuesday's demonstration at the National Assembly wore French-knitted sailors' jumpers. The jumpers were famously used as a symbol earlier this year in a national Buy French campaign.
But many economic analysts doubt whether such sentiments are relevant in today's border-free business world.
"We already have a reputation as a country that refuses to reform," said economist Marc Touati.
"If the smallest modernisation can lead to a blockage of this scale, it is pretty worrying for the future."