Mark Carney warns of complacency in financial markets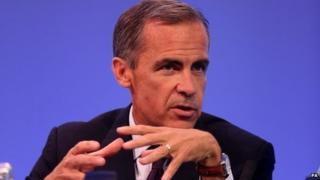 Complacency is threatening the stability of financial markets, the Bank of England governor has warned.
Mark Carney said that in the search for returns on their money, investors were pushing up the price of assets and taking excessive risks.
Speaking at a conference in Wales, he said that the situation increased the risk of a "sharp reversal" in asset prices.
He also said that a rise in UK interest rates was "getting closer".
Asset prices 'stretched'
"We are alert to the possibility that financial markets may be mispricing risks", Mr Carney told an insurance industry conference.
He referred to a statement issued by global watchdog the Financial Stability Board (FSB) in Cairns, Australia on 18 September, when Scotland was voting in the independence referendum. Mr Carney is the FSB's chairman as well as the governor of the Bank of England.
He quoted the FSB's warning that "there are increased signs of complacency in financial markets, in part reflecting the search for yield amidst exceptionally accommodative monetary policies".
These policies include very low central bank interest rates and measures such as quantitative easing, which are designed to reduce interest rates in financial markets.
Asset prices have become "stretched across a growing number of markets, increasing the risk of a sharp reversal," he said.
The FSB also noted that: "Authorities are stepping up their monitoring of the migration of risks to less regulated parts of the financial system."
Rate rise
On interest rates, the time when the Bank of England would raise rates was "getting closer", Mr Carney said. The Bank's main policy rate has been at an historic low of 0.5% since March 2009.
He restated the Bank's Monetary Policy Committee's (MPC) position that it had no set date in mind to increase rates, but would respond to economic data.
Two members voted for a rate rise at the latest MPC meeting, and some economists believe a rate rise may come as early as November, though more believe the first rise will come early next year.
Mr Carney also restated that "the precise timing of the first rate rise is less important than our expectation that when rates do rise, those increases are likely to be gradual and limited".