Nike sees sales and profit jump after World Cup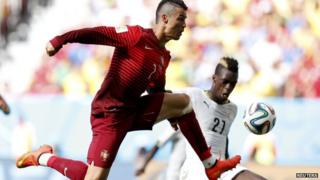 The US sportswear firm Nike has seen profit jump thanks to this year's football World Cup.
The company said net profit rose 23% to $962m (£590m) in the three months to August, while revenue rose 15% to $8bn in the same period.
Nike spent heavily on marketing during the World Cup, sponsoring players such as Brazil's Neymar and Portugal's Ronaldo.
"Fiscal year 2015 is off to a strong start," said Nike boss Mark Parker.
Shares jumped in after-hours trading in the US.
This year's football World Cup, hosted by Brazil, was the first time Nike sponsored more national teams than rival Adidas, which earlier this year issued a profit warning.
"When you look around the world, there really isn't much competition [for Nike]. Adidas is struggling, Reebok is struggling," Edward Jones, analyst Brian Yarbrough told Reuters.
'Tremendous energy'
Revenue from Western Europe jumped 25%, excluding the effect of currency fluctuations.
"There is tremendous energy around the brand in Europe with innovative products that are resonating with consumers. We saw strong results from both performance footwear and apparel as well as in sportswear," said Nike's brand president Trevor Edwards on a conference call.
"As of the end of the quarter, we had the leading footwear market share in the nine largest football markets around the world," he added.
Its Converse brand saw revenue rise 16% to $575m.
The company also said future orders for its athletic footwear and apparel, scheduled for delivery from September this year through January next year, has jumped 11% compared to the same period last year.