De La Rue shares plunge after printer warns on profits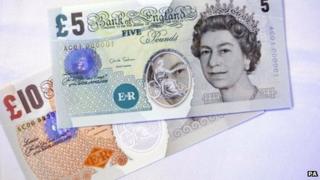 Shares in the company responsible for printing Bank of England banknotes have plunged 34% after it issued a profits warning.
De La Rue, which prints banknotes for several countries and also makes the UK's biometric passports, warned that trading conditions had "deteriorated".
Profits for this year are now expected to be £20m lower than in 2013/14.
The company said prices and margins for its printing services and secure paper used for banknotes were being squeezed.
It also said rates of growth in new business had been slower than expected in recent months, and said the global transition to biometric passports, which it also makes for the UK government, had been "disappointing".
But analysts say its banknote printing business is the real cause for concern.
Earlier this month the company was named as the preferred bidder for a new 10-year deal to print Bank of England notes, but the value of the contract is believed to be lower than expected.
'Not a one-off'
The deal includes printing the Bank's next generation of plastic banknotes.
Kevin Doran, chief investment officer at Brown Shipley, said he suspected the Bank of England had behaved "more commercially" in demanding a lower price from De La Rue for the renewed contract and said other central banks may now follow suit, squeezing margins at the company further.
"The profits warning is the result of pricing pressure being seen in the banknote printing business, including in the renewed deal with the Bank of England," he said.
"But the £20m isn't a one-off - when [the company's] existing customers come back to renew existing contracts they will push for the same price reductions that the Bank of England has demanded."
De La Rue has been involved in making banknotes for more than 150 countries, and passports or identity systems for over 65 governments.
It was the subject of a takeover bid from French rival Oberthur in 2010, but said the £900m offer undervalued the company.
De La Rue said it expects "the current difficult market conditions" to continue into the next financial year.
Operating profits last year were £89.3m.
Analysts had previously forecast operating profits of £90m this year and £94m in 2015/16, but have now downgraded their expectations to £68m and £58m respectively.
The company's board said it was now reappraising the level of the dividend "in light of this more difficult trading environment".
It expects to announce an interim dividend of 8.3 pence per share in November. Analysts had expected about 14.1 pence.
"While disappointing to announce this trading update De La Rue, as the market leading banknote printer, remains a strong, profitable and cash generative business. We will continue to pursue efficiency gains, invest in the business and in R&D for the future," said De La Rue chairman Philip Rogerson.
De La Rue is currently without a chief executive, following the departure of Tim Cobbold in March. His replacement, Martin Sutherland from BAE Systems, is due to start work on 13 October.