Air France insists budget airline must be low cost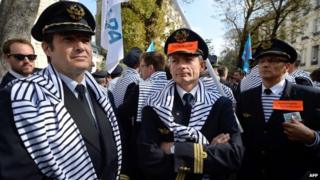 Air France has said it will go ahead with plans to develop its low cost airline within France despite objections from striking pilots.
Conditions at the budget operator are the main sticking point between management and Air France pilots.
Talks on Thursday failed to find a resolution to the 12 day old strike.
Air France said demands that pilots at the new operation receive the same pay and conditions as at Air France were incompatible with the low-cost model.
The pilots are demanding that the same contract be offered to all pilots across Air-France KLM's subsidiaries.
No single contract
Air France originally hoped to develop its low cost operation, Transavia, via regional hubs around Europe. But it has agreed to keep operations within France as a concession to the unions.
However the company insists it must be able to vary employment contracts for the budget operation.
Air France management said a "single contract (in particular under Air France conditions) totally opposes the principles of the low cost model."
---
Business reporter Theo Leggett writes:
Air France-KLM is in a tricky position. The loss-making airline can ill afford a strike which it has been going on for nearly two weeks.
Yet long term, it needs to cut its costs and win back short-haul customers who increasingly prefer budget carriers such as Ryanair or Easyjet. The plan to expand Transavia and let it take over many routes, was designed to do just that.
But Air France is not the first company to find that French unions will fight tooth and nail to protect their members' interests. Carmaker Peugeot, for example, faced intense opposition over factory closures, and came close to collapse before being bailed out by the French government and Chinese firm Dongfeng.
The question is - if Air France does back down, does it have a Plan B?
---
Around half of Air France's flights have been cancelled during the course of the strike, which the company says is costing it 20m euros (£15.6m) a day.
The company called for pilots to conclude negotiations and return to work.