Bill Gross leaves bond giant Pimco to join Janus Capital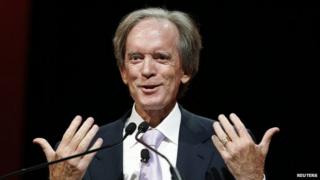 Bill Gross, one of the world's best-known bond investors, has left Pimco, the investment giant he co-founded.
Mr Gross will be joining Janus Capital Group next week to manage one of the firm's bond funds.
Mr Gross said he was looking forward to managing money again after his role as chief investment officer at Pimco.
Earlier this week, news emerged that a Pimco fund run by Mr Gross was being investigated over allegations of inflated returns.
Pimco said the investigation was a "private matter" and that its pricing procedures were "entirely appropriate".
Pimco's owner, German insurer Allianz, said on Friday there was no connection between Mr Gross's resignation and the investigation.
"We were given no indication that this has anything to do with the Securities and Exchange Commission inquiry," a spokeswoman for the company said.
'Respect'
"I look forward to returning my full focus to the fixed income markets and investing, giving up many of the complexities that go with managing a large, complicated organization," said Mr Gross.
"I chose Janus as my next home because of my long standing relationship with and respect for chief executive Dick Weil and my desire to get back to spending the bulk of my day managing client assets."
Pimco said Douglas Hodge, chief executive, and Jay Jacobs, president, would continue in their current roles following Mr Gross's departure.