Balfour Beatty's shares plunge on profits warning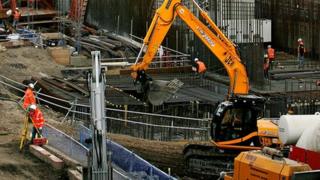 Balfour Beatty has issued another profits warning, compounding concerns over the UK's biggest construction group.
The company's shares fell sharply, closing 15.3% lower on Monday.
Balfour Beatty said there would be a further shortfall of £75m this year in its UK construction services division, following two earlier profits warnings this year.
The company is appointing accountants KPMG to review the contract portfolio.
'Extremely disappointing'
The accountancy firm is to conduct a "detailed independent review" into costs and controls at projects within that division, which will report before the end of this year.
The statement said Balfour Beatty had continued to experience "programme slippage" and "poor operational delivery" within some projects, including several London area building contracts.
"This latest trading statement is extremely disappointing," said executive chairman Steve Marshall in a statement.
"There has been inconsistent operational delivery across some parts of the UK construction business and that is unacceptable."
Mr Marshall has also announced he is to step down from his role on the company's board.
In August, a £2bn takeover offer from rival Carillion was rebuffed after repeated approaches.
Chairman to go
Balfour Beatty is involved in projects such as motorway building, power stations and office block construction, as well as public private partnership projects, and operates in 80 countries worldwide.
But it is the UK construction services division where significant problems have been identified.
Trading across the rest of the company remained in line with its expectations, the group said.
In May, the company's chief executive Andrew McNaughton quit after it became clear profits would be lower this year.
The company said it was now close to appointing a new chief executive.
Executive chairman Steve Marshall said he would step down, once a new chairman and chief executive had been found.