Wonga sees profits more than halve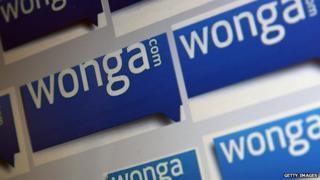 Profits at payday lender Wonga have fallen by more than half, the company has announced.
In the year to the end of December 2013, profits fell by 53% to £39.7m.
The company blamed "remediation costs" - money it had to pay back to customers as a result of its own mistakes.
It also says it expects to be "smaller and less profitable" in future, in part due to new controls set by the regulator, the Financial Conduct Authority (FCA).
Since July 2014, all payday loan companies have had to conform to new rules, which limit roll-overs of loans and force them to increase affordability checks. From January 2015, they will also have their charges capped.
In his blog BBC business editor Kamal Ahmed said chairman Andy Haste "has admitted that the company had been growing too fast and had been successful in part by resorting to unsustainable business practices.
Compensation
In June this year, the FCA ordered Wonga to pay £2.6m in compensation to 45,000 customers, after sending out fake letters from non-existent law firms.
At the same time Wonga was told to compensate 200,000 customers who were overcharged, as the result of a technical issue.
In total, such issues cost the company £18.8m.
These costs were included in the accounts for 2013, as some of them happened as far back as 2008.
Even though Wonga expects to make less money in the UK, it is investing in similar brands abroad.
"Investment in people, processes and our international businesses were key factors in the decline in Wonga's 2013 profits, and we will continue to build a sustainable business," said Wonga's acting chief executive, Tim Weller.
Since July, Wonga has stopped advertising on British television - as a result of the FCA's new rules.
"It will be Mr Haste's job to take Wonga from being an unruly teenager to a rather more sober adult," our business editor says.