L'Oreal halts business travel to Hong Kong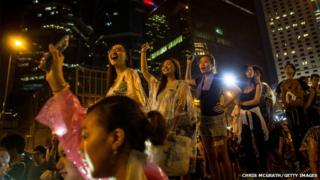 L'Oreal has banned its staff from travelling to Hong Kong until 6 October in response to the growing unrest in the city's streets.
An email was sent to staff on Monday by the French cosmetics giant, warning against travel to the city.
"It concerns all staff that would have to travel to Hong Kong," said a spokeswoman.
Pro-democracy protesters have extended a blockade on the streets, bringing parts of the city to a standstill.
Some schools and banks are closed and mainland Chinese media have warned of the potential economic impact Hong Kong could face.
But, the tens of thousands of protesters want Beijing to give the territory a free vote for its next leader, something Beijing has rejected.