Japan manufacturing confidence rebounds after sales tax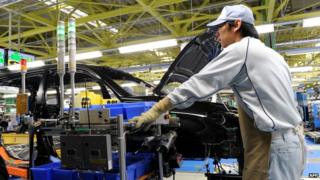 Japanese large manufacturers' confidence improved in the three months to September, according to a closely-watched central bank survey.
The Bank of Japan's quarterly Tankan headline index rose by one point to plus-13 in September, outperforming market forecasts for a plus-10 reading.
A positive reading means optimists outnumber pessimists.
However, sentiment in the services sector worsened due to the effects of a sales tax increase in April.
It tumbled by 6 points to plus-13 in the second quarter, marking the sharpest decline since 2011.
The mixed reading also follows poor economic data released on Tuesday that showed industrial output unexpectedly dropped.
Today's data will get extra attention given that Prime Minister Shinzo Abe said he would take the readings into account when considering whether to raise the country's sales tax again next year.
Japanese stocks opened 0.2% lower following the Tankan release, but analysts said this was mostly mirroring the falls on Wall Street. The yen also slipped to a six-year low against the US dollar on Tuesday.
Growth problems
The Tankan survey is closely-monitored by the business and financial community, because it is regarded as a key indicator of economic growth in Japan.
The world's third-largest economy has been struggling to overcome stagnant growth and falling prices, known as deflation.
To combat this, Mr Abe undertook a massive stimulus program aimed at weakening the yen and getting people to spend more.
Dubbed 'Abenomics', the economic plan was cheered by markets and Japanese business sentiment hit a more than six-year high in the March quarter after Mr Abe took office in 2012.
But he also had to contend with a large fiscal deficit. To try fix Japan's budget, Mr Abe pushed through the first consumption tax increase in 17 years in April.
The move caused the Tankan reading to slump in the three months to June, throwing Japan's economic recovery into question.
Richard Jerram, chief economist at the Bank of Singapore, believes Mr Abe will raise the sales tax for a second time.
"Increasing the sales tax has really hurt the economy, so raising taxes more when the economy is weak is not an attractive idea. But they need to find some fiscal prudence and to tackle the budget deficit," he said.
"If three years into Abenomics the economy is not good enough to accept a small tax increase, then you're essentially admitting that Abenomics has failed."