Tesco to be probed by Financial Conduct Authority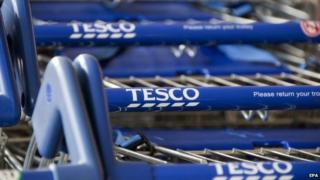 Tesco says it has been notified by the Financial Conduct Authority (FCA) that it is under investigation following its admission last week that it overstated its half-year profit guidance by £250m.
The supermarket giant said it would continue to co-operate fully with the FCA and other relevant authorities.
The news prompted a new fall in Tesco's share price, leaving it down 3% at 180p - its lowest for more than 10 years.
Tesco has already launched its own investigation into the issue.
It is being carried out by Deloitte, together with Freshfields, the group's external legal advisers.
Last week, the UK accountancy regulator, the Financial Reporting Council (FRC), said it was "monitoring the situation closely", but would not act until Tesco's own investigation was completed.
The FRC can issue fines for misconduct. It can also, via an independent panel, suspend individuals and firms from the professional accounting body.
Falling sales
Tesco has suspended four executives in connection with its accounting problems, including its UK managing director, Chris Bush.
The supermarket has been battling falling sales and a decline in its market share as discount chains such as Aldi and Lidl have gained in popularity.
It has recently undergone a high-level reshuffle. Chief executive Dave Lewis has only been in the job a month, while chief financial officer Alan Stewart, who was originally due to join the company on 1 December, had his start date brought forward and took up the post last week.
The chairman of the Parliamentary Business Committee, Adrian Bailey, has described Tesco's error as "stratospheric".
He told the BBC last week that the firm's former chief executive, Philip Clarke, could well be summoned to appear before his committee over the issue.