France to hit EU budget deficit target in 2017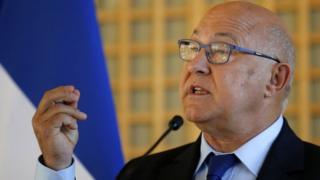 The French government has said it will reduce its budget deficit to below the EU threshold of 3% of GDP by 2017, two years later than promised.
The new forecast indicates the public deficit will fall to 4.3% next year, but to 2.8% by 2017.
It was released as Finance Minister Michel Sapin prepared to present his annual budget to cabinet.
Mr Sapin said growth would remain weak, projecting that the economy would only grow very slightly this year.
"We have taken the decision to adapt the pace of deficit reduction to the economic situation of the country," he told a news conference.
"Our economic policy is not changing, but the deficit will be reduced more slowly than planned because of economic circumstances - very weak growth and very weak inflation."
The French government is hoping to boost growth by cutting taxes, although this will have to be financed by further spending reductions.
France plans to cut public spending by €50bn ($63bn; £39bn) by 2017, the year in which the country's next presidential election will be held.
The country has missed a number of budget deficit targets and has struggled with high unemployment and low growth.
In August, three French ministers resigned amid a bitter row over economic policy.
Analysis: Lucy Williamson, BBC News, Paris
"We've got a plan and we're sticking to it," France's finance minister told reporters on his way to present his budget to the cabinet this morning.
Michel Sapin had already warned that the government would cut €50bn from its spending over the next three years, with €21bn to be cut in this budget.
Early reports suggest that almost half of that will come from cuts to social security, with the rest being cut from state and local government spending - including a reduction of €200m in the budget for Paris.
The government is under heavy pressure from Brussels to bring its deficit down faster, after France confirmed it would again miss an EU deadline to reduce it. The country's total debt is now 95% of GDP.
But the planned cuts are likely to go down badly with the left wing of the ruling Socialist Party, which disagrees with the government's model for improving the economy.