US dollar rally 'has years to go'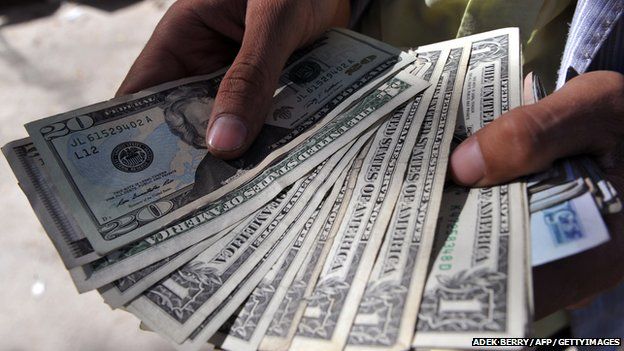 The US dollar continued its rally on Wednesday, hovering near a four-year high against major currencies.
In early trading, it rose over 110 yen for the first time in six years and was close to a two-year high against the euro at $1.25.
Analysts say the dollar rally shows no signs of ending as sharp losses mount for other currencies.
"We think the dollar rally has another two years to go at least," said Chris Turner, global head of strategy at ING.
"It's come a long way, pretty quickly. I think a 5% advance over the next six months is very achievable," Mr Turner added, referring to the US dollar index, which measures the dollar against a basket of major currencies.
The US dollar index is up nearly 9% since the beginning of May, being driven by expectations that the US Federal Reserve will raise interest rates as the US economy recovers. Meanwhile, growth fears in Europe, China and Japan are likely to lead central banks to loosen monetary policy, putting pressure on their currencies.
"As we get closer to the Fed beginning to tighten policy and the ECB [European Central Bank] still being particular to easing policy, we think the bias is still towards dollar gains," said Adam Cole, head of currency strategy at RBC Capital Markets.
Last month, the US central bank confirmed that it would end its massive bond-buying programme in October, which has been helping the US economy recover from the financial crisis of 2008-09.
The major currencies that would continue to face the biggest headwinds from the US dollar's rise in the next 12 months will probably be the euro and the Japanese yen, according to analysts.
"Old-world currencies like the euro and the yen, they're going to suffer the sharpest losses against the dollar probably in the next 12 months," Mr Turner said.
The euro saw its biggest fall in more than two years in September, losing nearly 4% against the dollar, and has been hit by recent weak manufacturing reports from the region, along with data on Tuesday that showed cooling inflation in the eurozone.
However, Mr Cole from RBC sees it as more of a story of the dollar's strength than of the weakness of other currencies.
"It's simply been dollar up against every single developed market and emerging market currency," Mr Cole said. " The US dollar continues to stay strong through 2015."