World Bank: Ukraine GDP to shrink 8% this year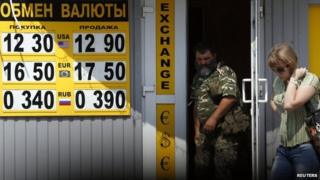 Ukraine's economy is likely to suffer more than previously predicted because of the conflict in the east of the country, the World Bank has said.
It now says that GDP is likely to contract by 8% this year, compared with its previous prediction of 5%.
It also now expects a 1% contraction in 2015, instead of 2.5% growth.
The prediction comes as pro-Russian separatists and government forces vie for control of the airport in the eastern city of Donetsk.
The rebels say they occupy nearly all the airport, but the government disputes this.
The World Bank said the conflict had caused disruption in economic activity in the eastern Donetsk and Luhansk regions, leading to a sharper decline in GDP.
The bank's chief representative in Ukraine, Qimiao Fan, said the two regions accounted for about one-sixth of the country's GDP, including a quarter of industrial output.
The crisis in eastern Ukraine and Russia's annexation of Crimea have prompted the US and EU to impose an array of sanctions on Russian individuals and businesses.
But on Thursday, Russian President Vladimir Putin described the sanctions as "unwarranted" and said they would not stop his country developing into a stronger economic power.
He told an audience of business leaders in Moscow that Russia would continue to develop as an open market economy.
He added that the government would not impose controls on the flow of money in and out of the country, nor would it seek to curb currency movements.