Abercrombie discrimination suit goes to US Supreme Court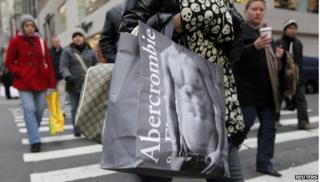 The US Supreme Court has agreed to hear a case in which clothing retailer Abercrombie & Fitch is accused of discriminating against a Muslim teenager because she wore a headscarf.
Samantha Elauf argued she was denied a job because her headscarf conflicted with the company's dress code.
Abercrombie disputes the allegation, arguing Ms Elauf did not ask specifically for a religious exemption.
She had applied for a job at a Tulsa, Oklahoma store in 2008.
The suit, which is being brought by the Equal Employment Opportunity Commission (EEOC), argues that Ms Elauf was denied the job because her headscarf clashed with Abercrombie's "East Coast" style, which explicitly states that store employees should not wear anything that clashes with the brand's aesthetic.
Damages
US law requires that employers must "reasonably accommodate" an employee's religious beliefs, as long as it does not provide an undue hardship to the business.
The EEOC was initially successful in winning its case, and a jury awarded Ms Elauf $20,000 in damages.
However, a higher court threw out that ruling, noting that Ms Elauf never specified that she would need a religious exemption in her job interview, even though she was wearing her headscarf during the process.
"An employer cannot be liable for failing to accommodate a religious conflict unless it knows that the religious conflict exists," wrote Abercrombie's lawyers in court documents.
It now falls to the Supreme Court, whose 2014-15 term begins on Monday, to have the final say.