Easyjet revenues boosted by Air France strike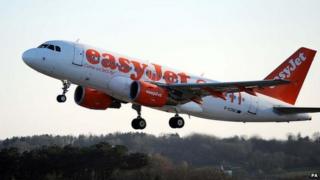 Shares in Easyjet have risen after the airline said it had benefited from a strike at Air France, as passengers switched to the no-frills carrier.
Easyjet says the strike has boosted its revenue by about £5m.
Combined with a strong end to the financial year, the airline has also lifted its profit forecast.
It now expects pre-tax profit for the year to 30 September to be between £575m and £580m, up from previous guidance of £545m to £570m.
"Easyjet has continued to execute its strategy," said chief executive Carolyn McCall. "This has enabled Easyjet to deliver record profits for the fourth year in a row.
"This will also lead to our largest every ordinary dividend payment as we are also proposing to increase the proportion of our profits after tax paid in dividends from 33% to 40%," she said.
Easyjet shares closed nearly 6.4% higher at 1,459 pence.
Last month, Air France pilots went on strike for two weeks in a dispute over employment contracts. It cost the airline hundreds of millions of euros and led to about half of the airline's flights being cancelled.
The strike was called off on 28 September in order to start more talks, but an agreement to resolve the dispute has yet to be reached.
Cheaper fuel
The company said increased efficiency had offset increases in regulated airport charges and other costs associated with carrying more passengers. An average Easyjet plane is now 90% full.
More than a quarter of seats for October to March have now been sold, slightly more than in the same period last year, it added.
Easyjet said it expected its fuel bill for the next financial year would be about £50m lower than this year, but currency moves over the period could have a £20m adverse impact.
Revenue per seat for the three months to September is expected to grow by around 1.5%, driven by a strong finish to the summer season.
Richard Hunter from Hargreaves Lansdown said an increase in both passenger numbers and fewer empty seats on flights were encouraging.
"A continued focus on costs has been helped by a lower fuel bill, whilst the additional proposed increase to the dividend is a reflection of the company's optimism on prospects," he said.
"There are, inevitably, downsides to the investment case, although not necessarily of the company's making - geopolitical concerns, the cyclicality of the industry, increased airport charges and some caution towards the sector given the recent Ebola scare in the US."