Pound slips on PMI services survey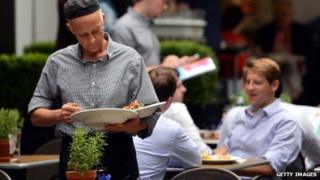 The pound fell early on Friday after a survey suggested that growth in the UK services industry slowed in September.
The closely-watched Markit services purchasing managers' index (PMI) fell to a three-month low of 58.7 in September from August's 60.5.
However, any measure above 50 indicates expansion and Markit pointed out that the index was still at a level indicative of rapid growth.
Markit said the results suggested the economy grew 0.8% in the third quarter.
In the second quarter of the year the UK economy expanded by 0.9%.
"September's PMI surveys suggest that the UK most likely enjoyed another spell of above-trend economic growth in the third quarter, but the recovery appears to be losing its legs," said Chris Williamson, chief economist at Markit.
"The pace of expansion hit a six-month low in September and is showing signs of moderating further as we move towards the end of the year," he added.
Surveys released earlier in the week found the manufacturing sector growing at its slowest pace for 17 months in September, although the construction sector recorded rapid growth.
Following the release of the services survey, the pound fell to a 10-day low against the euro of €1.2734 and against the dollar it fell to $1.6080, close to an 11-month low. Later the pound regained ground against the euro to end the day 0.12% higher.
Markit said the surveys added to the case for interest rates to remain on hold until at least next year and at least until there were clear signs of wages and household incomes rising in real terms.
In August, the Bank of England halved its forecast for average wage growth, saying it now expects average salaries to rise by 1.25% this year.