World Bank cuts China growth forecast for next three years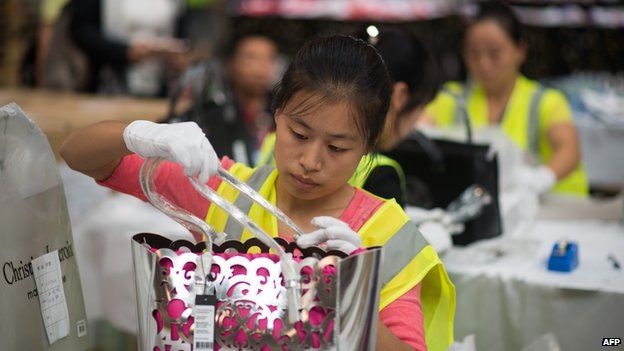 The World Bank has cut China's growth forecast for the next three years as the country tackles structural reforms.
Growth in the world's second-largest economy will fall to 7.4% from a previous estimate of 7.6%, it said.
"In China, growth will gradually slow, as efforts to address financial vulnerabilities and structural constraints increase," the lender said.
Growth in 2015 will go down to 7.2% and then 7.1% in 2016 from a previous forecast of 7.5% for both years.
The World Bank has become the latest in a series of major banks to downgrade their outlook for China on growth concerns.
In September, US bank Goldman Sachs cut the country's growth forecast to 7.1% from 7.6% in 2015 and kept this year's forecast at 7.3%, below Beijing's target of 7.5%.
Louis Kuijs, greater China chief economist at RBS, said it was likely China would miss its official growth target this year, because the government was "okay" with slower growth.
"Unlike our previous expectations, the government is not extremely forceful in trying to meet its 7.5% growth target," Mr Kuijs said.
"One of the key messages coming from these forecasts is that the government seems all right with a little bit weaker growth than its target, as long as things like the labour market are holding up."
Chinese authorities have repeatedly said there is no dramatic change to its policy, despite a series of weaker than expected economic data from the Asian giant.
Growth will slow as the Chinese government tries to "strike a balance" between containing growth risks and meeting growth targets, the World Bank added.
"Measures to contain local government debt, curb shadow banking and tackle excess capacity, high energy demand, and high pollution will reduce investment and manufacturing output," the World Bank said.
The bank also cut its growth forecast for developing countries in the East Asia region for the next two years, from 7.1% to 6.9%, as global trade growth slows.