Michael Bloomberg receives an honorary knighthood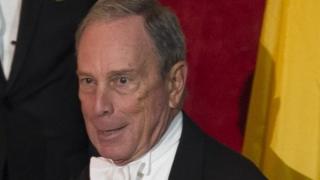 Michael Bloomberg, founder of the eponymous financial information firm Bloomberg and former New York Mayor, has been given an honorary knighthood.
The 72-year-old was knighted in honour of his "prodigious entrepreneurial and philanthropic endeavours".
As an American citizen he cannot be called "Sir Mike", but can add KBE (Knight Commander) to the end of his name.
Mr Bloomberg said he was "deeply honoured".
"[It] is especially meaningful to me because of my close personal, business and philanthropic ties to London and Britain, which stretch back four decades," he added.
British ambassador to the US Sir Peter Westmacott, who announced the honorary award, said Mr Bloomberg had "played a key role in forging transatlantic diplomatic, economic and cultural ties".
He said he had made a "significant contribution" to British business life through Bloomberg, and his "considerable philanthropic endeavours in the arts and education is felt by Britons every day".
During his time as New York Mayor, Mr Bloomberg renewed a tourism partnership between New York and London to boost travel between the two cities.
The British Embassy said he was also a "great supporter of the arts and education in the UK".