Rio Tinto confirms it rejected Glencore takeover bid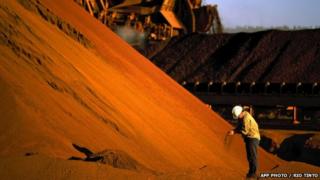 Anglo-Australian mining group Rio Tinto has said that it rejected a takeover bid by rival firm Glencore in August, because it was "not in the best interests" of its shareholders.
On Monday, speculation of a possible merger had caused shares in Rio Tinto to rise by more than 9% in New York.
The mining giant now has a market capitalisation of nearly £56.3bn compared with Glencore's £44.5bn.
A deal would have created the world's largest publicly listed mining group.
In a statement, Rio Tinto emphasised that no discussions were taking place with Glencore, and that there had been no contact between the two firms since the bid was rejected in August. Glencore had originally contacted Rio about a possible deal in July.
But Bloomberg has reported that Glencore has been sounding out Rio Tinto's largest shareholder, Chinalco (Aluminium Corporation of China), on its attitude to a potential merger.
Chinalco owns about 13% of Rio Tinto.
Rio's chairman, Jan du Plessis, said the company had "made significant progress in refocusing and strengthening its business".
"The board believes that the continued successful execution of Rio Tinto's strategy will allow Rio Tinto to increase free cash flow significantly in the near term and materially increase returns to shareholders," he added.
In August, Rio Tinto reported a 21% rise in half-year profits to $5.1bn (£3.2bn) after cutting costs.
Copper bottomed
Last year, Glencore bought Swiss mining firm Xstrata, forming one of the world's biggest metals and commodities firms.
But the deal only went through on condition that Glencore sold its stake in Xstrata's copper mining project in Peru to a buyer approved by Chinese authorities.
China was concerned that the merger would have given Glencore too much power over the copper market.
In April, Glencore sold the Peruvian copper mine to a Chinese consortium for £3.6bn in cash.