Tesco asks fifth executive to step aside after profit error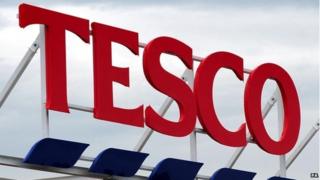 UK supermarket giant Tesco has asked a fifth executive to step aside, as the fall-out from its £250m profit forecast overstatement continues.
Commercial director Kevin Grace has been asked to step aside while Tesco investigates the matter.
Four other executives have already been asked to step aside, including UK managing director Chris Bush.
Chief executive Dave Lewis has launched an investigation in the accounting error.
Mr Lewis, who took over the role from from Philip Clarke on 1 September, has seen billions wiped off the value of Tesco's stock market value as a result of the mis-reporting.
But he has made clear that the actions taken against the Tesco executives are not "disciplinary or an admission of guilt."
Accountancy firm Deloitte and law firm Freshfields are carrying out the internal investigation.
But last week, Tesco said it had been notified by the Financial Conduct Authority that it was under investigation over the guidance error.
Tesco's share price has plummeted 50% in a year, as falling sales, boardroom reshuffles, and increased competition from rival supermarkets such as Aldi and Lidl, have spooked investors.
This week Mr Lewis refreshed his board with the appointment of Compass boss Richard Cousins and former Ikea boss Mikael Ohlsson as non-executive directors.
Tesco still has a 28.8% share of the UK grocery market, according to retail analyst Kantar Worldpanel.
'Weaker player'
Tesco veteran Andrew Higginson told a grocery conference on Tuesday that the company's recent turmoil was not good for the sector as a whole.
"Tesco has been a weaker player the last couple of years, which has made the industry weaker," he said.
"Competition is good for you."
Mr Higginson, formerly Tesco's finance director, will become the chairman of rival Morrisons early next year.
In a straight talking speech at the IGD Convention, he said the big four supermarkets had lost customers' trust on pricing.
"The marketing dialogue of the last four years has astonished me really," he said.
"It's the big four talking to each other, not talking to customers.
Mr Higginson added that retailers needed to rejuvenate their relationships with suppliers, and boardrooms needed to "have less hubris" about their business.
But he also believed that although the sector was going through extraordinary times, it would recover.
"Supermarkets and food retailers are not dead."