SodaStream shares plunge after cutting revenue outlook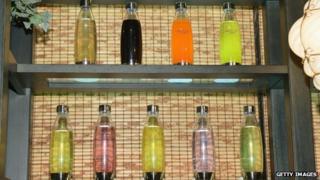 Fizzy-drink machine company SodaStream's shares have fallen sharply, after the company cut its forecast for third quarter revenue.
Shares plunged by up to 21% as the Israeli firm said sales in the US, its largest market, had underperformed.
SodaStream now predicts revenue of around $125m for July to September. Analysts' forecasts were for $154m.
Chief Executive Daniel Birnbaum said the results are a "clear indication" the company needs to change direction.
"We have already begun a strategic shift of the SodaStream brand towards health & wellness", he continued.
The company has already lost nearly half its market value this year as sales in the Americas have fallen in the past six months.
The company itself had previously predicted revenue of $144.6m.