Wonga TV ad banned for failing to show interest rate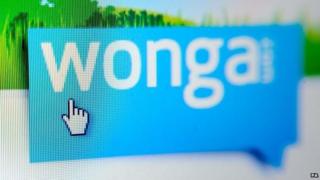 The Advertising Standards Authority has banned a TV advert by payday lender Wonga, after a complaint by a charity.
Citizens Advice argued the advert - in which a man jotted down figures on a napkin before checking on his phone calculator - breached regulations by not revealing the loan's interest rate.
One of Wonga's "pensioner puppets" is seen telling the man: "You appear to be in a financial quandary, young fellow."
The ASA ruled that the advert must not appear again in its current form.
Adverts from a handful of other payday lenders were banned by the ASA in July for falling foul of advertising codes.
Wonga, which has faced criticism for its high interest rates and debt collection tactics, has not had any TV advertising since June, when a new chairman joined the firm.
The company said this ruling related to an old advert and there was an ongoing review of its marketing.
The company recently announced it was writing off £220m of debts for 330,000 customers after putting in place new affordability checks.
Credit 'incentive'
The advert banned by the ASA contained the line: "Yes - you can even pay back early and save money".
It ended by displaying the web address "wonga.com" prominently.
The regulator considered this "an incentive to apply for credit", and said that consequently, the representative annual percentage rate, or interest rate, should have been displayed.
Responding to the ruling, the chief executive of Citizens Advice, Gillian Guy, said: "Adverts must be clear about what taking out a loan means and how much it will cost.
"The consequences are really serious when payday lending goes wrong. High interest rates and fees can mean that a small loan balloons into a huge debt."
He added that "both the advertising and payday loan industries need to look at why so many adverts are not meeting the grade and change their ways".