National Australia Bank earnings hit by UK charges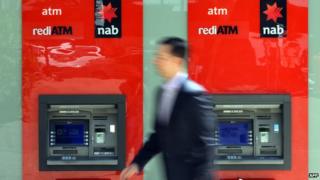 National Australia Bank (NAB) has said its full-year earnings will fall by up to 14% because of higher-than-expected charges at its UK business.
NAB warned it could be facing almost 1bn Australian dollars ($881m; £548m) in higher charges at its UK operations.
This covers costs for mis-selling payment protection insurance (PPI) and also provisions for interest rate hedging products.
NAB's UK business includes the Yorkshire and Clydesdale banks.
NAB now forecasts its earnings will be A$5.1bn-A$5.2bn - nearly 20% below market expectations.
"The size of the provisions were higher than I expected," said David Ellis, an analyst at Morningstar.
NAB, Australia's fourth-largest bank by market value, reported a record cash profit of A$5.9bn last year.
News of the disappointing earnings forecast comes after a management shake-up in August when Andrew Thorburn was named the bank's new chief executive.
Mr Thorburn said while the larger UK charges were disappointing, the underlying performance of the NAB group remained strong.
"Taking these decisions gives us more clarity going into the future and allows us to focus on the core Australian and New Zealand franchises, which remain in good shape," he said.