Royal Mail strikes £18m antitrust fine deal with French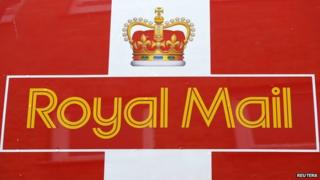 Royal Mail says it has set aside £18m ($29m; €23m) to cover a potential fine imposed by French competition authorities.
One of its French subsidiaries may have breached antitrust rules, the company said.
Royal Mail, which listed on the stock market a year ago, said: "By agreeing to settle and provide compliance commitments now, Royal Mail will benefit from a reduction to any fine."
The French investigation is continuing.
Royal Mail said the full amount of the fine would not be determined until the second half of the 2015-16 financial year.
The £18m financial provision for the first half-year up to 28 September includes £12m to cover any fine and £6m to cover estimated legal costs, the company said.
The subsidiary in question is Royal Mail's parcel business, GLS, which operates in 42 countries, including France.
The alleged breach occurred "during the period before the end of 2010", Royal Mail said in a statement.
Other parcel companies, including La Poste, DHL/Deutsche Post, FedEx, TNT Express, and SNCF, are also under investigation by the French authorities.
Although the provision Royal Mail has made is for £18m, the fine could end up being larger - TNT Express, for example, has made a provision of €50m.