Bank standards panel picks ex-telecoms regulator as chair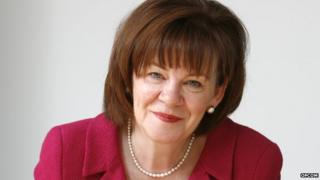 Dame Colette Bowe is to become the first full-time chair of the Banking Standards Review Council (BSRC).
The BSRC is a new body designed to improve standards in the banking sector following a series of scandals involving mis-selling, poor advice and rate-rigging.
A group of leading UK banks lent their support to the creation of a body to set standards and improve conduct.
Dame Colette will assume her role on 1 November, the BSRC said.
She takes over from former editor of the Financial Times, Sir Richard Lambert, who was acting as interim chair.
Continuous improvement
Earlier this year, Sir Richard, who was also head of the Confederation of British Industry, published a report setting out how the body should operate.
He said that the BSRC should require banks to: commit to a continuous improvement in culture; set standards of good practice; and report on their progress each year.
Barclays, HSBC, Lloyds Banking Group, Royal Bank of Scotland, Santander, Standard Chartered and Nationwide supported the creation of the new body.
Banks welcomed Dame Colette's appointment.
"Dame Colette's appointment by a committee headed by Mark Carney demonstrates the importance of the new Banking Standards Review Council. The industry stands ready to assist her to help it bring about the improvements in standards we all want to see," said the chief executive of the British Bankers' Association, Anthony Browne.
The BSRC will report annually on its progress and aims to publish an initial paper on the state of banking standards and good practice in the first half of 2015.
But it will not have powers to discipline banks and building societies and will be funded by lenders.
'Delighted'
One of her first jobs at the BSRC will be to appoint a chief executive and encourage banks and building societies to sign up to the industry-funded body.
As well as chairing the industry regulator Ofcom, Dame Colette also led Electra Private Equity.
The governor of the Bank of England, Mark Carney, who chaired the independent selection panel, said he was "delighted" that Dame Colette had accepted the position.
"Colette not only has a deep understanding of financial services regulation, but also a proven track record of improving standards of safety, fairness and integrity across a range of industries," said Mr Carney.
Dame Colette said her appointment presented "a very big challenge," adding that "we are all ready to give it our best shot."