Global shares fall further on economy fears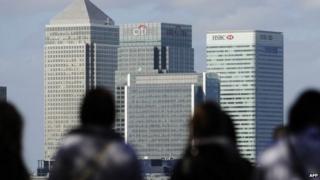 European and US stock markets have seen sharp falls as fears have deepened over prospects for the global economy.
London's FTSE 100 share index fell 1.4% to 6,339.97, a 12-month low, as did Germany's Dax. France's Cac-40 fell to it lowest level in 2014.
In the US, the Dow Jones erased its gains for the year, with the tech-heavy Nasdaq tumbling more than 2%.
Poor economic data from Germany this week has stoked fears that the eurozone could be heading for another recession.
Oil prices also saw sharp falls, with the Brent crude price hitting its lowest level for nearly four years.
After recording its biggest one-day fall of the year on Thursday, the Dow Jones dropped another 0.7% on Friday to close at 16,659.25, losing all the gains it has made this year.
The tech-heavy Nasdaq index slumped 2.3% to 4,276.24, led lower by semiconductor makers. Microchip Technology, which cut its sales forecast for the quarter and warned that declines could be expected across the industry, saw its share price fall by 12%.
The broader S&P 500 index fell 1% to 1,906.13.
'Uncharted territory'
"There are definitely some headwinds on the market right now and they're coming out of Europe,'' Erik Davidson, deputy chief investment officer of Wells Fargo Private Bank, told the Associated Press.
Over in Europe, share price falls were just as steep. Germany's Dax fell 2.4% to 8,788.81, while France's Cac-40 dropped 1.6% to 4,073.71 points.
The price of Brent crude oil dropped $1.65 to $88.40 a barrel at one point before recovering some ground to stand at $89.64.
US oil fell by $1.92 a barrel to $83.85, its weakest level since June 2012, although it also regained some ground to stand at $89.39. Both oil benchmarks have lost about 20% since their peak in June.
Oil prices have been undermined by a combination of increasing supplies and weakening demand.
Libya has recently increased its supply of oil to the open market, and demand from China, the world's second biggest user of oil, has slipped as its economic growth has slackened off.
Carsten Fritsch, commodities analyst at Commerzbank, told Reuters the oil markets were now in "panic mode".
"Panic and capitulation. We are now in uncharted territory," he said. "The rout will probably continue until [oil cartel] Opec says enough is enough."
Eurozone risks
This week, German economic data has presented a consistently negative picture. Figures released on Thursday showed exports fell 5.8% in August, and this followed weak industrial output figures on Tuesday.
The International Monetary Fund (IMF) said it was concerned by the country's slowdown.
"We are quite concerned about the slowdown in Germany. We have revised down our forecasts," said Mahmood Pradhan, the IMF's European Department Deputy Director.
"The second quarter negative [GDP] number has been followed by a number of soft indicators that point to a further weakening in Germany and I think this underlines the general point that the euro area recovery looks much weaker than anticipated last spring," he said.
Earlier this week, the IMF cut its forecasts for global growth in 2014 and 2015, and on Thursday IMF chief Christine Lagarde crystallised investors' worries about flagging economic growth by warning the eurozone could return to recession.
The IMF's downgrade of prospects for the three biggest eurozone countries' economies - Italy, France and Germany - prompted the Chancellor, George Osborne, to warn the UK economy was facing a "critical moment".
On Thursday, he told the BBC: "The eurozone risks slipping back into crisis. Britain cannot be immune from that. It's already having an impact on our manufacturing and our exports."
"It now looks as though investors are nervous about a confluence of factors, ranging from worries of a global economic slowdown, an economic crisis, with German economic data especially poor, deflation... the impact of Ebola and lurking geopolitical risks," said Neil MacKinnon, economist at VTB Capital financial group told AFP.