Number of UK wine producers continues to grow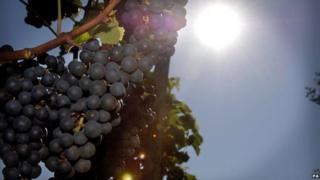 The number of new wine producers in the UK has risen sharply, according to new research.
In the year to 31 March, 46 new producers registered with the taxman, up from 31 in the 2012-13 period, said accountants UHY Hacker Young.
There are now 135 UK producers registered with HMRC, the firm added.
It said that the growth has been driven by consumers' greater interest in niche, locally produced food and drink, but also that tax changes have helped.
There has also been a rise in the number of micro-breweries and producers of other drinks such as spirits.
The number of beer producers, predominantly craft breweries, has increased by 188% over the past five years.
Roy Maugham, head of tax at UHY Hacker Young, said: "Consumer interest in boutique products continues to grow.
"Food products such as artisan cheeses and organically reared meats, and drinks such as craft beer and artisan spirits, have been the focus of increased demand.
"Now, we're seeing the same thing in the UK's once-mocked wine industry. English wines have enjoyed a genuine renaissance over the last couple of years and are now being taken seriously on the international stage."
The government's removal of a minimum R&D investment requirement has allowed many small businesses such as wine producers to qualify for tax relief.
Previously, firms had to spend a minimum of £10,000 on R&D to qualify for tax relief, Hacker Young said.
"Many wine producers will be doing a considerable amount of R&D activity so the tax credits are giving them an opportunity to expand their businesses in other areas," Mr Maugham said.