Oil prices see further declines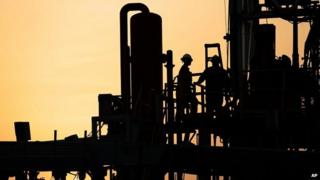 Global oil prices have fallen again amid worries about slow global growth and reports that key oil producers want to maintain current output levels.
Brent crude fell to a near four-year low of $87.74 a barrel earlier, before recovering some ground to $88.46.
US light crude oil was down $0.93 at $84.76, close to a two-year low.
Weak economic growth will cut demand for oil. In addition, Reuters reported that Saudi Arabia had indicated it could cope with lower prices.
The gloomy growth outlook weighed on stock markets at the start of trading on Monday, although shares then recovered and the UK's FTSE 100 index was 0.4% higher at 6,366.24. In New York, the Dow Jones opened 13 points higher at 16,556.75.
Confidence 'dismantled'
Last week, the International Monetary Fund shaved its forecast for global growth for this year from 3.4% to 3.3%.
It said overall global growth would be held back by weakness in Japan, Latin America and Europe, with any recovery in the advanced economies "weak and uneven".
Share values have been falling recently, with some analysts arguing they are catching up with economic reality.
Several times this year the UK's FTSE 100 index came close to topping its all time high of 6,930.2, last reached at the end of December 1999. However, since the start of September the FTSE 100 index has lost 10%.
Alastair McCaig, market analyst at City watchers IG, said: "Just over a month ago expectations that the FTSE could break above the 7,000 level were the norm, with the index trading less than 100 points away.
"The subsequent economic data out of Germany and dismantling of confidence has not only slaughtered European markets but dragged the UK down too."
Key changes
Although some members of the Opec oil producers' cartel are pushing for production cuts to take the oil price back to the $100-a-barrel level, the Reuters news agency reported that Saudi Arabia had let it be known informally that it would be unlikely to push for a cut in production to boost prices even if they fell to $80 a barrel.
Oil prices have fallen 20% since June.
Kuwait's oil minister, Ali al-Omair, was quoted by state news agency KUNA as saying over the weekend that a price of $76-$77 a barrel might be the floor price.
That is what it costs to produce a barrel of oil in Russia and the US, so any lower could mean producers mothballing production or running at a loss.
There have been two significant changes in the oil market recently.
At the start of this month, Saudi Arabia said it would cut its selling price for oil in a move to protect its market share, something that was described as a "structural change" as Saudi Arabia had never explicitly competed on price.
The other more dramatic development has been the growing extraction of shale oil in the US, which has increased the country's production of oil significantly.
The International Energy Agency has forecast that the US will soon overtake Saudi Arabia and Russia to become the world's biggest oil producer.