Oil prices continue to slide on IEA report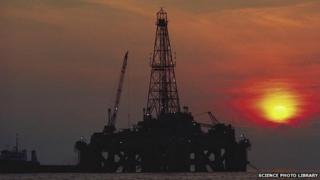 Global oil prices have fallen further after the International Energy Agency (IEA) reported higher output and cut its forecast for demand growth.
Brent crude fell $2.72 to $86.17 a barrel before seeing a slight recovery, while US crude dropped $1.75 to $83.99.
The price of Brent has fallen by 20% since the summer on concerns of oversupply, as output increases and demand wanes.
"Recent price drops appear both supply and demand driven," the IEA said.
"Further oil price drops would likely be needed for supply to take a hit - or for demand growth to get a lift."
So far, the Organisation of Petroleum Exporting Countries (Opec), which produces about 40% of the world's crude oil, has shown no signs of reducing supply.
In its monthly oil market report, the IEA said Opec production hit a 13-month high in September.
It also forecast that global oil demand would rise by about 700,000 barrels a day on average this year, 200,000 barrels a day lower than its previous forecast.
"Crude oil is being sold again following the monthly report from the IEA in which they saw oil demand growth this year rising at the slowest pace since 2009," said Saxo Bank analyst Ole Hansen.
"At current production levels, supply growth will outstrip demand growth and this is adding to the current negative sentiment in the market."
Lower forecasts for demand for oil reflect growing concerns about the strength of the global economy.
Last week, the International Monetary Fund cut its forecast for global economic growth for this year and next, warning that the recovery was "weak and uneven".