Regulator to tackle scam artists with crime proceeds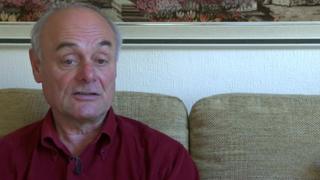 The Financial Conduct Authority is so concerned about scam merchants targeting the elderly that it is launching a major publicity campaign.
For the first time the regulator is using the proceeds of crime to pay for adverts in newspapers, on the radio and online.
The FCA believes that investment frauds pushed over the phone or the internet are costing the public £1bn a year.
Two thirds of victims are over the age of 56, 20% are over 76.
And nearly 70% are men.
'Sophisticated'
Clive Osborne from Peterborough is one of 5,000 who have got in touch with the financial watchdog over the last 12 months to complain.
He was telephoned every day for a fortnight by a US firm trying to get him to sell shares owned by his elderly mother.
"They seemed sophisticated and believable," Mr Osborne explains, "and their website looked professional."
Mr Osborne's mother did have a handful of the shares. But he started having doubts when they suggested she had more than 4,000 of them and asked him to post a bond worth £5,000 to show good faith.
"That really raised my suspicions, because that was when I realised how the scammers were going to make money," said Mr Osborne.
"I didn't put up the bond, the phone went dead and I never heard from them again."
Rare-earth metals
The FCA believes people like Mr Osborne form the tip of a very large iceberg because most of those targeted are embarrassed to talk about their experiences.
The average loss is £20,000, with Birmingham, Guildford, Leicester, Northern Ireland and Bristol leading the list of worst affected areas.
Investors face high-pressure selling over the phone from swindlers offering shares, land, carbon credits and rare-earth metals.
Typically, they emphasise that time is limited or dangle bonuses or discounts to persuade their victims to part with savings.
'Ruthless'
Older people are targeted deliberately because the fraudsters know they have funds to invest, according to the FCA's head of enforcement, Tracey McDermott.
"They know those people aren't able to get very good returns from traditional investments and deposit accounts at the moment, so they are more susceptible," she says.
The £1m campaign will include adverts on Classic FM, LBC radio and in the Daily Mail and the Telegraph newspapers.
"The fraudsters are absolutely ruthless," says Ms McDermott, "they will take every last penny."
She is warning potential targets not to take cold calls, not to make investments without taking independent advice and to check the FCA's website to see whether firms are authorised to operate.