Costco to enter China through Alibaba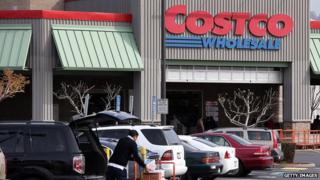 US warehouse retailer Costco is opening an online store in China through e-commerce giant Alibaba's Tmall website.
Costco will enter the world's second largest economy for the first time on the Tmall platform, which is one of China's largest online marketplaces.
The store will sell a range of goods from food to healthcare products, along with Costco's Kirkland brand.
The move by Costco is seen as a way to boost revenue amid slowing sales in its home US market.
Earlier this month, Costco's revenues beat market expectations for the first time in five quarters after it reported quarterly revenue of $35.5bn (£22.3bn).
Costco executive vice president Jim Murphy said the retailer saw big growth opportunities in China, considering "consumers' increasing appetite for imported products".
Last year, China's £109.1bn consumer goods market grew by more than 7%, according to a report from Kantar World Panel and Bain & Company.