China inflation slows to near five-year low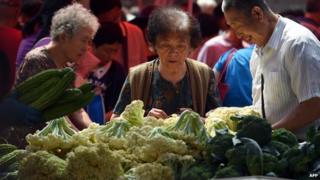 Inflation in China eased to a near five-year low in September, adding to further evidence of a slowdown in the world's second largest economy.
The consumer price index (CPI) rose 1.6% in September from a year ago - the lowest since January 2010.
That also missed market expectations of a 1.7% yearly rise, and was down from 2% in August.
The slowing inflation rate could be a result of good harvest weather in China, said Tim Condon at ING.
"Typically the months we need to worry about for food in China are in the middle of the year and the beginning January/February which are Lunar New Year contagion months, so we're in the soft period now for food component inflation," he said.
Will Beijing step in?
Economists said the recent figures give policymakers a lot of room to stimulate the economy with inflation well below Beijing's official annual target of 3.5%, but most are divided on whether authorities will step in.
"Everything I'm hearing from the authorities is they feel the economy is broadly in a good shape and not needing broad assistance that would come from a deposit rate cut or an RRR [reserve requirement ratio] cut," Mr Condon said.
Trade figures on Monday did show that China's exports and imports in September were far higher than expected, giving a surplus of $31bn (£20bn).
But economist Li Huiyong at Shenyin & Wanguo Securities said the unexpected inflation figures show a weak domestic economy.
"We expect policymakers will take more measures to stabilise the economy. The possibility of an interest rate cut is increasing in the coming months."