AbbVie to reconsider £32bn Shire takeover deal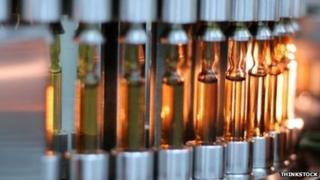 US drug firm AbbVie has said it is reconsidering its £32bn takeover of UK rival Shire following new tax rules announced by the US Treasury.
It said its board needed to weigh "the fundamental financial benefits of the transaction" in light of the new regulations.
The rules, unveiled in September, aim to crack down on US firms moving their headquarters abroad to avoid US taxes.
The merged firms' base would have shifted to the UK as part of the deal.
Shire's shares plunged 27% in morning trading following the announcement.
When they announced the deal in July, the two firms said they planned to create a new company incorporated in Jersey.
This process of reincorporating in another country, known as inversion, would have lowered AbbVie's tax bill.
AbbVie said its directors would meet on 20 October to consider "the impact" of the White House's "proposed unilateral changes including the impact to the fundamental financial benefits of the transaction".
In response, Shire said its board believed that AbbVie "should proceed with the recommended offer".
Shire also noted that if AbbVie changed its recommendation to shareholders to back the deal and the takeover subsequently collapsed, AbbVie would have to pay a $1.6bn "break fee".
Earlier this month, Salix Pharmaceuticals scrapped its merger with the subsidiary of an Italian drugs firm in the wake of the new tax regulations.