Pilots at Lufthansa's Germanwings to strike on Thursday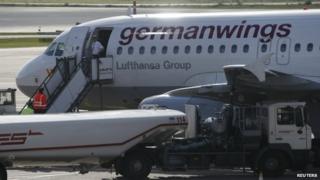 Pilots at Lufthansa's low cost airline Germanwings are to stage a 12-hour strike on Thursday in a row over retirement policies at the company.
The union, Vereinigung Cockpit, said it would not staff flights between noon and midnight (1000 to 2200 GMT).
However, the airline said it expected to run 80% of scheduled flights.
The union, which represents 5,400 Lufthansa pilots, wants the company to retain a favourable retirement policy which the company plans to reduce.
Currently Lufthansa pilots can retire aged 55 but continue to draw a substantial transition payment, up to 60% of their salary, until they reach official retirement age.
Lufthansa wants to raise the age at which the scheme will apply for new recruits to the airline.
"Unfortunately, Lufthansa has not taken on VC's proposals for compromise and is continuing to stonewall," Vereinigung Cockpit said. The union has warned of further strikes.
Germanwings says it will publish which flights will be affected later on Wednesday.
"The escalation shows that it's not about a constructive solution for VC but rather about causing the most possible damage," a spokesman for Germanwings said.
Lufthansa has been hit by pilot strikes twice this year already.