US growth 'modest to moderate', says Fed Beige Book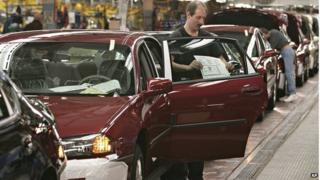 The US economy grew at a "modest to moderate" pace, the Federal Reserve's latest Beige Book reports.
Gains in consumer spending, manufacturing and commercial construction helped deliver the growth.
The survey of the 12 Federal Reserve Districts said six regions reported "modest" growth and five "moderate". One, Boston, said activity was uneven.
The Fed also said some districts reported "modest" wage growth.
Several areas saw upward wage pressures in industries like construction and manufacturing.
The survey is based on anecdotal reports from businesses and will be considered with other data when Fed policymakers meet on 28-29 October.
"Most Districts reported overall growth in consumer spending that ranged from slight to moderate," the Federal Reserve said, adding their reports were generally in line with comments gathered in the previous Beige Book.
One area of muted growth was in retail, where general stores in New York said sales were weak.