AbbVie board decides against £32bn Shire takeover deal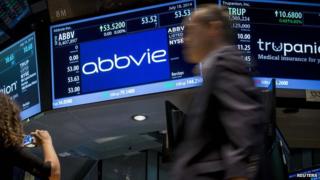 US drug firm AbbVie has recommended that is shareholders vote against a £32bn takeover offer for rival Shire.
It said recent tax changes had introduced an "unacceptable level of uncertainty" to the deal.
AbbVie, based in North Chicago, Illinois, had already indicated it was reconsidering the deal in light of government curbs on the tax benefits of incorporating overseas.
The merged firms' HQ was planned to be in Jersey, part of the British Isles.
Shire is already incorporated there.
"The agreed upon valuation is no longer supported as a result of the changes to the tax rules and we did not believe it was in the best interests of our stockholders to proceed," said Richard Gonzalez, AbbVie's chairman and chief executive in a statement released late on Wednesday.
Shire's board had recommended that its own shareholders accept the offer, and claims AbbVie will have to pay a "break fee" - potentially in the region of $1.6bn (£1bn) - for changing its mind and walking away from the deal.
Shire's share price was down 11% in early morning trading, following on from Wednesday's 22% plunge.
The process of companies reincorporating in another country, known as inversion, has attracted criticism in the US because companies have been using the procedure to lower their Corporation Tax bills.
In September, the US Treasury Department moved to curb such tax advantages.
Earlier this month, Salix Pharmaceuticals scrapped its merger with the subsidiary of an Italian drugs firm in the wake of the new tax regulations.