Cycling campaigners say new government plan 'derisory'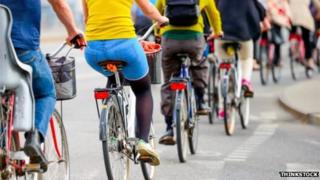 Campaigners have rounded on the government's plan to double the number of people cycling in England by 2025.
The boss of the cycling charity CTC described the plan as 'derisory'.
Campaigners argue that the "cycling revolution" promised by David Cameron last year doesn't commit money to getting more people on a bike.
However, the transport minister, Robert Goodwill said the government was "serious about making the UK a cycling nation".
Right now in England, around £5 per head is spent on cycling and walking. Ministers want to double that to £10, but it's not clear how.
All this comes barely a year after the prime minister stood pedal-to-pedal with British Cycling's Olympic and Paralympic champions Sir Chris Hoy, Victoria Pendleton and Jody Cundy to announce big changes, including £94m for cycling projects in eight cities and four national parks.
That's a good chunk of money but you need to bear in mind that a new cycle lane can cost £10m.
So now the charities have waded in, as they try to lobby for a secure, long-term cycling budget in the upcoming Autumn Statement.
'Penny Farthing budget'
Campaigners say the government's Cycling Delivery Plan talks about working with local government and businesses to "explore" how they might raise more cash, rather than committing money to getting more people on a bike.
Paul Tuohy, who is the Chief Executive of CTC, the cycling charity says:
"This is a derisory plan not a delivery plan. The prime minister's 'cycling revolution' with its Penny Farthing budget is going nowhere unless the Chancellor finds funding for cycling in his Autumn Statement.
"Cycling needs at least £10 a head if we are even to begin catching up with German, Dutch or Danish levels of cycle use."
And one of our most famous cyclists and bike designers, Chris Boardman, who is also British Cycling's Policy Adviser, adds,
"The long-awaited cycling delivery plan is an un-missable opportunity for the government to put their money where their mouth is and truly give us the cycling revolution promised by David Cameron.
"If George Osborne isn't convinced he just needs to look at British Cycling's research paper which shows £17bn savings for the NHS and a 25% increase in the mobility of our nation's poorest families."
But the government has defended its strategy.
Transport Minister Robert Goodwill said: "We have doubled funding since 2010, with £374m committed between 2011 and 2015.
"We want cycling and walking to become the natural choices for shorter journeys, kick starting a cycling revolution that will remove barriers for a new generation of cyclists."
Thursday's plan isn't the final version. It goes out for consultation and we get the final proposal before the general election.
The reality is, most of our roads are designed for cars and lorries and it would take hundreds of millions, if not billions of pounds, to redesign all of those nasty junctions and bottlenecks so that the average person feels safe enough to join a cycling revolution.
Follow @bbcwestcott on Twitter