Virgin Australia buys out Tiger Airways for A$1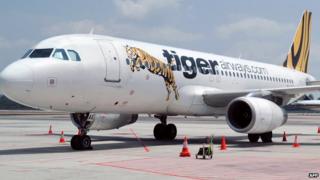 Virgin Australia will buy out loss-making budget carrier Tiger Airways Australia for A$1 (£0.54).
Virgin already has a 60% stake in Tiger but will take full control in an effort to speed up a turnaround, it said.
"We will benefit from the economies of scale and achieve profitability ahead of schedule by the end of 2016," said chief executive John Borghetti.
Virgin bought its first stake in the venture from Singapore's Tiger Airways for A$35m last year.
Tiger Airways, however, has struggled to win customers in a slumping domestic market.
"Given the ongoing subdued consumer demand in the Australian domestic market, the growth of the Tigerair Australia domestic fleet is likely to be reduced," Mr Borghetti said in a statement.
The airline currently has a fleet of 13 A320 aircraft and flies to 12 destinations within Australia.
In August, Virgin had said its annual net loss tripled to A$355.6m due to weak consumer sentiment, Australia's carbon tax and the cost of buying the stake in Tiger Airways.
The takeover, subject to regulatory approval, is expected to be completed by the end of this year, Virgin said.
The move comes on the same day that Singapore Airlines announced that it would take majority control of Tiger Airways - of which Tiger Airways Australia was a subsidiary.
Singapore Airlines increased its stake from 40% to 55% in Tiger Airways after it reported making a record quarterly loss of S$182m.