Over 40? Data says you could be the perfect entrepreneur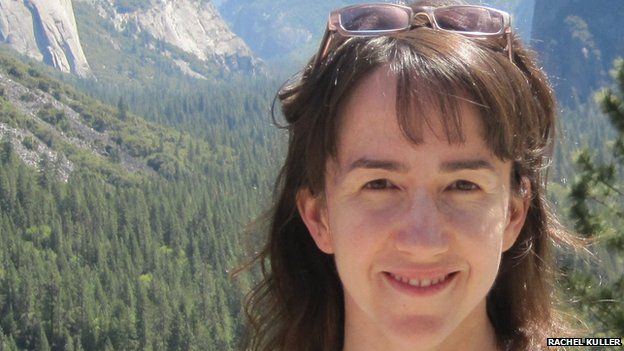 One day in March an email popped into 38-year-old Rachel Kuller's inbox.
"You've been chosen… as one of the most likely people in the technology industry to create a company," it began.
Rachel, who works for a business software firm and had neither started a business nor planned to do so, was intrigued.
The email was sent by the team at Bloomberg Beta, a recently-launched $75m (£46m) venture capital fund backed by the media and information group Bloomberg.
It went on to describe how they had used data analytics to find people who had a strong chance of starting and building a successful company - even before those people knew it themselves.
"I'd find myself in meetings with possible start-up founders wishing I'd met them a year ago" says Roy Bahat of Bloomberg Beta.
Mr Bahat knew that it might be possible to use data in this way to find potential entrepreneurs, but the first two analytic firms he approached were not able to do what he wanted.
However, at the third company he approached, Mattermark - itself a start-up - co-founder Danielle Morrill had a plan.
"We took a sample set of founders," she says.
"We looked at where they had worked, what kind of job they had, their age and other factors and used those to build a model.
"It is the largest study that has ever been done on patterns of business founders," she tells the BBC.
Some of their criteria seem obvious - people who had already worked in a start-up, for example. People who had attended a top-tier universities was another. Working in technology or business management, a third.
Additionally, all the people they were looking for had to be within the Bay area of San Francisco or New York.
Mattermark then mined publicly available information on social network sites such as Twitter, Facebook and LinkedIn to find information on one-and-a half-million professionals who were in some way connected to technology start-ups.
The data threw up 350 people who most resembled the profile of the business founders in their initial study.
While the popular image of the start-up founder is a Mark Zuckerberg-style dorm room twenty-something - Mattermark and Bloomberg's research found that a typical business founder was often quite different.
For one thing, they were more likely to be in their late 30s and 38% of founders were actually over 40.
They also discovered that people who had stayed in a job for a long time were more likely to go on to start their own business.
What's more, two-thirds of business founders had not held a senior position before starting their own company.
"Contrary to conventional wisdom, being 'stuck' in the same company or position for a long time, even a decade, does not diminish your likelihood of becoming a business founder," says Ms Morrill.
Scam, spam or opportunity?
Once the 350 potential entrepreneurs had been identified, they were sent an email explaining why Bloomberg Beta was contacting them and inviting them to a "meet-up" dinner.
Initially, many of those on the email address list thought it was just spam - or worse - a possible scam.
Yet for others who read further, it sparked not only an interest but also some self-examination.
"I hadn't thought about starting a company before," says Rachel Kuller.
"It did encourage me to think a little bit harder, that it's something I could do. I'm in a time and definitely the place (San Francisco) where the possibilities are huge."
Another person to take the email seriously was Ryan Hoover, much more the archetypal start-up personality of popular imagination.
Aged 27, Ryan was already working for two start-ups when the email arrived, while his own venture was also in its early stages.
His firm, Product Hunt, has since finished two rounds of funding and currently has more than $7m of venture capital backing.
The company shares information about technology products, which go up and down in popularity based on subscriber's reaction to them.
It is popular in the technology and start-up scenes and is read by many venture capital firms looking for the next big thing.
Both Ryan and Rachel say that the original Bloomberg Beta "meet up" dinner - where there were hundreds of other email recipients as well as venture capitalists - and subsequent events have been useful.
For one thing, they say, if you're going to start a company you need good people.
This project, which brings together these future founders every few months, has been a way for many to network and meet others who could contribute to their own projects.
It is an outcome that Bloomberg Beta's Mr Bahat says he expected.
"Our goal was not to encourage them to start businesses.
"Our role was to get to know them and, if they wanted to, we would be useful to them and help them."
"We recognised we were looking for a needle in a haystack, but the difference with taking this approach is that all the hay is made of gold."