Janet Yellen warns on growing inequality in the US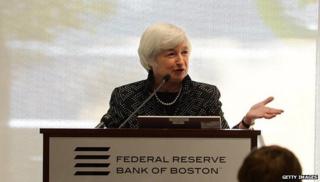 US Federal Reserve chair Janet Yellen said that she was "greatly concerned" about rising inequality in the US.
"I think it is appropriate to ask whether [growing inequality] is compatible with values rooted in our nation's history," she said in a speech in Boston on Friday.
Some worried the speech politicised the Fed in favour of Democrats.
President Barack Obama has highlighted inequality in recent speeches on the state of the US economy.
Ms Yellen has made efforts since taking over as head of the central bank in January to focus more on issues beyond the basic rate-setting role of the Fed.
'Great Gatsby Curve'
"The past several decades have seen the most sustained rise in inequality since the 19th century after more than 40 years of narrowing inequality following the Great Depression," she said, noting that while some degree of inequality is to be expected, the recent widening concerns her.
Ms Yellen cited the "Great Gatsby Curve", which has found that "among advanced economies, greater income inequality is associated with diminished intergenerational mobility".
To combat this trend, Ms Yellen advised focusing on four issues: affordable higher education, inheritance policy, business ownership and help for children.
However, she did not tie any of these policies to those of the Fed, which is unusual for a central bank official.
The Fed is set to hold a two-day meeting of its rate-setting committee on 28-29 October.