Adidas shares up on Reebok bid speculation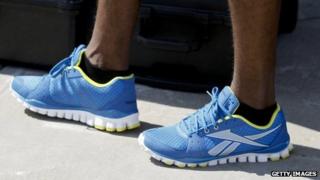 Shares in sportswear giant Adidas rose 6% in early trading after a report said a group of investors was considering a bid for the company's Reebok brand.
The Wall Street Journal said Hong Kong's Jynwel Capital and investment funds in Abu Dhabi were considering an offer worth $2.2bn (£1.36bn).
The news provided a welcome boost for the German company's flagging share price, down about 40% this year.
Adidas bought US-based Reebok in 2006, but has struggled to boost sales.
Warburg Research analyst Joerg Philipp Frey said the reported offer looked like a good deal. "From the Adidas perspective, that would be a great price. Whether management would accept it is another matter as it would be an admission of defeat," he said.
The Reebok acquisition was designed to help Adidas challenge Nike on its home turf and raise the profile of the German company's own brand.
Profit warnings
But although the Reebok purchase was a success initially, in the past few years its market share has shrunk. Reebok also suffered after losing a contract to supply the US National Football League.
However, analysts said there had been signs that Reebok's fortunes were picking up. "Reebok is one of the few brands enjoying some success for Adidas lately," Jon Copestake, retail analyst at The Economist Intelligence Unit told the Reuters news agency.
Adidas, forced into a series of profit warnings, has been subject to other speculation recently.
Last month, German media reported that hedge funds including Knight Vinke, Third Point and TCI were considering buying stakes in Adidas to force management to make sweeping changes, including the sale of Reebok,
Earlier this month, Adidas announced plans to return as much as 1.5bn euros (£1.2bn) to shareholders over the next three years.
Adidas said in May that it was considering offers for its Rockport shoe brand, which it acquired when it bought Reebok.