Asos shares soar 18% despite fall in profits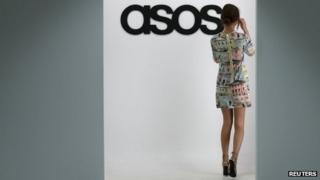 Annual profits at Asos have fallen by 14% after the online retailer was hit by the strength of sterling and a major warehouse fire.
Pre-tax profits fell to £46.9m in the year to 31 August despite Asos increasing sales by 27% to £955.3m.
However, overseas sales have slowed due to the strong pound forcing Asos into a series of promotions.
But Asos shares rose 18% as investors bet that a difficult year that included three profit warnings was over.
Investment plans
Chief executive Nick Robertson said in a statement: "Despite all that happened this year, we still delivered 27% growth in sales, with the UK a standout performance at 35% growth.
"We are in a period of major investment that comes at a short term cost, but the medium-term benefits will be significant.
"Asos has always been about the longer journey to a very big prize: to be the world's leading fashion destination for 20-somethings, and we are firmly focused on our next staging post of £2.5bn sales."
Also on Tuesday, the firm announced that it had promoted chief financial officer Nick Beighton to the chief operating officer role.
In June, Asos briefly suspended trading after a fire at its main warehouse in Barnsley. The company has also been investing heavily in China.
Confidence 'mixed'
Investors greeted the annual results by pushing Asos shares up sharply. "Management has now bought itself some time to tackle the issues," said analysts at N+1 Singer in a note.
But Anusha Couttigane, consultant at retail analysts Conlumino, said that challenges remain.
"Nick Robertson is keen to point out the long term ambitions of the retailer. Yet the way things stand, it is clear that some investors are growing impatient.
"With Asos' share value halving over the course of the year, it is evident that confidence in the retailer's ability to generate a fast turnaround is mixed," she said.