Amazon and Simon & Schuster agree e-book pricing deal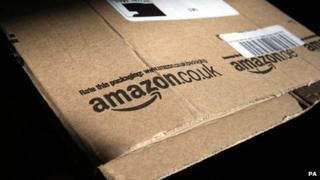 Online retailer Amazon has reached a deal with major publisher Simon & Schuster over the pricing of e-books.
Amazon's dominance in the e-book market has brought it into conflict with publishers and authors.
The multi-year agreement with Simon & Schuster gives the publisher, owned by CBS, greater control over pricing.
Amazon has been involved in a high-profile dispute with Hachette, which led to the retailer delaying shipment of some of the publisher's books.
Amazon and Simon & Schuster said their deal, covering both print and digital books, was good for both parties. The exact terms of the agreement were not disclosed.
Amazon said the deal "creates a financial incentive for Simon & Schuster to deliver lower prices for readers".
Simon & Schuster sent a letter to its authors and their agents, calling the deal "economically advantageous".
The letter said: "Our new deal assures that your books will be continuously available for sale at this major retailer through this year's holiday book buying season and well beyond."
Amazon, which sell about two-thirds of e-books in the US, has argued that prices should be about $9.99 or less. Some publishers and authors, including best-selling writers such as Donna Tartt and Lee Child, say this price is not economically sustainable.
Simon & Schuster and Hachette have been negotiating new deals with Amazon because they were among five publishers sued by the US Justice Department in 2012 for alleged price fixing. All the publishers settled out of court.