Lufthansa strike declared legal as union warns of more action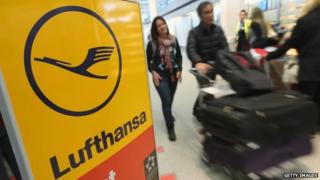 German airline Lufthansa has failed in a court bid to force its pilots to call off their strike.
A labour court in Hesse found on Tuesday that there were no grounds to declare the action illegal.
On Monday, the pilots began their eighth strike this year in a dispute over Lufthansa's attempt to change retirement and pension arrangements.
The strike is due to end later on Tuesday, but the Vereinigung Cockpit (VC) union says more action is planned.
"We explicitly do not rule out further strikes this week if Lufthansa doesn't budge," Markus Wahl, a VC board member said.
The strike, due to end at 2200 GMT, has hit 200,000 passengers and forced the cancellation of about 1,500 short-haul and long-haul flights.
The union, which represents about 5,400 Lufthansa pilots, is calling on the airline to reconsider its decision to raise the age that they can retire from 55 to 60.
The company has offered to retain the scheme for existing members but not to extend it to new recruits.
The airline is attempting to expand its low-cost operation in the face of tough competition from budget carriers such as Easyjet and Ryanair.
Lufthansa has warned that the industrial action will hit profits and damage the airline's reputation.
Economic harm
The airline had previously put the cost of strikes, including a walkout early in 2014 by security staff at Frankfurt airport, at about 70m euros (£55m). But some analysts have estimated that the final cost could be much more.
A two-week pilots' strike at rival Air France reportedly cost the airline 500m euros.
German aviation is not the only sector to be hit by industrial action. Over the weekend train drivers walked out over demands for a 5% pay rise.
The strikes prompted the German Industry Federation business lobby to warn that the impact on logistics, tourism and the business travel sectors would hit the whole economy.
Germany's government is expected to produce a draft law later this year aimed at stopping small numbers of employees paralysing large parts of the country's infrastructure through strike action.