Tesco's sales fall faster than its competitors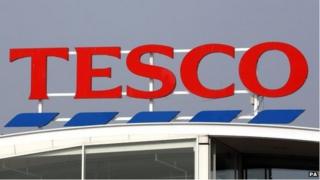 Tesco's sales are falling faster than any of its competitors, as it loses market share to discounters Aldi and Lidl, as well as to upmarket rival Waitrose.
The supermarket saw sales fall 3.6% in the 12 weeks to 12 October, according to research firm Kantar Worldpanel.
The drop has reduced its market share to 28.8%, down from 30.1% a year ago.
The news came as HSBC analyst David McCarthy said Tesco needed to invest £3bn to turn around its UK performance.
Mr McCarthy said Tesco needed to lower its food prices by 5% to 6%, increase store staff numbers and improve the quality of its products.
He said it could take six years for Tesco to address the issues, but that he believed it would succeed.
"Eventually, we think Tesco could emerge as the long-term winner amongst the quoted sector and should be able to take the fight to the discounters," he added.
'Polarised market'
Despite Tesco's sales drop over the past 12 weeks, Kantar said the period marked the supermarket group's best performance since June.
Kantar's data continued to show discount retailers Aldi and Lidl increasing their market share, with sales up 27.3% and 18.1% respectively.
But upmarket rival Waitrose also saw a sharp 6.8% sales rise.
Among the big four supermarkets, Asda, which cut its prices ahead of rivals last year, was the only firm to see a rise in sales, of 1%.
In contrast, Sainsbury's saw sales fall 3.1% and Morrisons by 1.8%.
"We are seeing clear polarisation of the market, with both the premium and discount ends of the market gaining share, while the mainstream grocers continue to be squeezed in the middle," said Kantar's head of retail and consumer insight, Fraser McKevitt.
Tesco is due to report its half-year profits on Thursday, as well as an update on its inquiry into its recent accounting scandal, which saw it overstate its expected profit by £250m.