Total names new heads after Christophe de Margerie death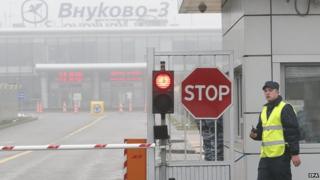 Total has named the executives to replace Christophe de Margerie, the executive chairman who died in a plane crash in Moscow on Monday.
The roles of chief executive and chairman will be split temporarily, Total said after a board meeting.
Patrick Pouyanne, head of refining, is chief executive. Former chief executive Thierry Desmarest is chairman.
Mr de Margerie died along with crew members after a private jet hit a snow plough on the airport runway.
The snow plough driver has been accused by the authorities of being drunk. But he has denied drinking, saying on Wednesday that he lost his bearings in the bad weather and was unaware he was on the runway.
Mr Pouyanne, aged 51, a graduate engineer, spent many years at the French Industry Ministry before joining Total in 1997.
The Big Moustache
Mr Desmarest, aged 68, was chief executive between 1995 and 2007, and was appointed honorary president of Total's board of directors in 2010.
Total said in a statement that Mr Desmarest would retire at the end of 2015, after which the roles of chief executive and chairman would be re-combined. Analysts said Mr Desmarest would help mentor Mr Pouyanne in his role until he took over as executive chairman.
Mr de Margerie, who replaced Mr Desmarest in 2007, was one of the most recognisable - and outspoken - executives in the oil industry. His trademark handlebar moustache earned him the nickname "Big Moustache".
He was a critic of European sanctions against Russia, arguing that such actions would simply push Russia closer to China.
The oil giant is France's second-biggest listed company.