Total boss death: Moscow airport chiefs quit over crash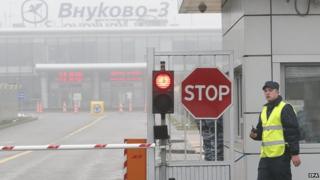 The chief executive of Russia's Vnukovo airport and his deputy have resigned after a plane crash this week that killed the head of France's Total.
The Moscow airport said in a statement that it had accepted the resignations of Andrei Dyakov and his number two, Sergei Solntsev.
Russian prosecutors have also detained five airport workers over the crash.
Christophe de Margerie and the private aircraft's three crew were killed when the aircraft hit a snow plough.
The Dassault Falcon plane was taking off as it clipped the snow plough and burst into flames.
The driver of the plough, one of the five being detained, was accused by the authorities of being drunk.
Vladimir Martynenko, 60, has denied this, saying that he mistakenly strayed onto the runway in bad weather. He appeared in court in Moscow on Thursday.
The other four employees detained include the intern air traffic controller, her supervisor, the head of air traffic controllers and the head of runway cleaning.
"The investigation suggests that these people did not respect the norms of flight security and ground operations, which led to the tragedy. They have been detained as suspects," the investigating authority said in a statement.
Mr de Margerie was one of the most recognisable - and outspoken - executives in the oil industry. His trademark handlebar moustache earned him the nickname "Big Moustache".
He was a critic of European sanctions against Russia, arguing that such actions would simply push Russia closer to China.
Mr Martynenko was shown on television telling investigators: "When I lost my bearings, I myself didn't notice when I drove on to the runway."